The Air Defense is a powerful Defensive Building with a very high damage-per-second, capable of defending against flying units.
Air Defenses can only target and shoot one air troop at a time.
It cannot harm ground-based units, or interfere with them in any way other than potentially distracting them from attacking a more valuable target (e.g. the Town Hall).
The Air Defense is unlocked at Town Hall Level 4.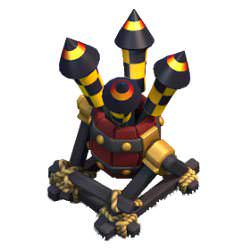 Defensive Strategy
The Air Defense has an excellent range and a very high damage per shot. As the in-game description states, it's best to position them so that they cover as much area as possible. One common strategy for Town Hall 8 and above is to position them in a wide triangle (or diamond, once the fourth Air Defense is available) around the Town Hall.
The Air Defense is a popular first target for attackers via ground troops as they are the only defensive structure that cannot target them. Make sure they are defended well, and they will help to keep the skies clear from rampaging Balloons, Dragons and Healers. Air Defenses are there for when Archer Towers and Wizard Towers just won't cut it (and they usually don't, for air units at least).
If possible, keep your Air Defenses behind your first lines of defense (i.e. behind Cannons and Archer Towers), preferably with a Wall in between. This will prevent a large Giant or Golem assault from quickly destroying the Air Defense and allowing a Healer to be deployed early in the battle. The longer it takes the Giants to destroy the Air Defense, the more time your turrets will have to thin out their ranks before the Healer is deployed.
Offensive Strategy
The Air Defense is a natural target to attack first, as clearing them helps pave the way for an air assault. Healers are very vulnerable to the Air Defense so it is a good strategic move to destroy this building with Giants before deploying her. They are easily destroyed by any ground-based troop type.
It is advisable to keep Balloons away from an Air Defense, as they are capable of destroying Balloons in one or two hits from a great distance.
Although Air Defenses are quite effective against Dragons, it is possible to keep an Air Defense occupied with a Dragon or two long enough for a fleet of Balloons to quickly destroy a majority of the ground defenses.
| | | | | | | | | | | |
| --- | --- | --- | --- | --- | --- | --- | --- | --- | --- | --- |
| Town Hall Level | 1 | 2 | 3 | 4 | 5 | 6 | 7 | 8 | 9 | 10 |
| Number Available | 0 | 0 | 0 | 1 | 1 | 1 | 2 | 3 | 4 | 4 |
| Level | Damage per Second | Damage per Shot | Hitpoints | Cost | Build Time | Experience Gained | Town Hall Level Required |
| --- | --- | --- | --- | --- | --- | --- | --- |
| 1 | 80 | 80 | 800 | 22,500 | 5 hours | 134 | 4 |
| 2 | 110 | 110 | 860 | 90,000 | 1 day | 293 | 4 |
| 3 | 140 | 140 | 900 | 270,000 | 3 days | 509 | 5 |
| 4 | 160 | 160 | 950 | 540,000 | 5 days | 657 | 6 |
| 5 | 190 | 190 | 1,000 | 1,080,000 | 6 days | 720 | 7 |
| 6 | 230 | 230 | 1,050 | 2,160,000 | 8 days | 831 | 8 |
| 7 | 280 | 280 | 1,110 | 4,320,000 | 10 days | 929 | 9 |
| 8 | 320 | 320 | 1,170 | 7,560,000 | 12 days | 1,018 | 10 |
| Range | Attack Speed | Damage Type | Unit Type Targeted | Size |
| --- | --- | --- | --- | --- |
| 10 | 1s | Single Target | Air | 3×3 |
Clash of Clans Buildings
1
2
Defensive Buildings
Cannon

•

Archer Tower

•

Mortar

•

Air Defense

•

Wizard Tower

•

Air Sweeper

•

Hidden Tesla

•

X-Bow

•

Inferno Tower

•

Eagle Artillery

•

Walls

•

Traps
Resource Buildings
Town Hall

•

Gold Mine

•

Elixir Collector

•

Dark Elixir Drill

•

Gold Storage

•

Elixir Storage

•

Dark Elixir Storage

•

Builder's Hut

•

Clan Castle (Treasury)
Army Buildings
Army Camp

•

Barracks

•

Dark Barracks

•

Laboratory

•

Spell Factory

•

Dark Spell Factory

•

Barbarian King Altar

•

Archer Queen Altar

•

Grand Warden Altar
Other Buildings
Decorations

•

Obstacles

•

Loot Cart