Summary
The Barbarian King Altar is basically an Army Camp/Laboratory for the Barbarian King. When he isn't engaged in battle, the Barbarian King can be seen pacing around the Altar, or sleeping on top of it to regenerate health or set to Sleep.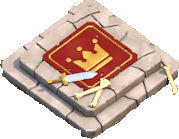 You need a free Builder and 10,000 Dark Elixir to build the Altar. Once the Altar has been placed, the Barbarian King is summoned immediately. The placement of the Altar is instantaneous and no additional resources are required to summon the Barbarian King.
If you wish to see the Barbarian King's targeting range, tap either on him or on his Altar.
Defensive Strategy
Place the Altar in the center of your village. Try to use the King when he is covered with your other defenses. Placing the Altar in the outside area of your village will enable other players to easily lure the King to his death with Troops. When he is outside of other defenses' cover, the enemy will swarm him with Barbarians or Archers and kill him in short order.
Offensive Strategy
Lure the King outside the village by one or two Barbarians. After he is outside the base's defensive cover, swarm him with Barbarians or Archers.
| Cost  | Build Time | Hitpoints | Unlocked Unit | Size | Town Hall Level Required |
| --- | --- | --- | --- | --- | --- |
| 10,000 | None | 250 | Barbarian King | 3×3 | 7 |