Summary
The Army Camps are where your troops go when they're done training. Most troops will take up more than one space (Barbarians, Archers, and Goblins do only take up one space though). Upgrading and building more Army Camps allow more troops to be stored, allowing higher chances of victory in raids.
They continue to function even when they are being upgraded, allowing you to keep your armies at full capacity at all times.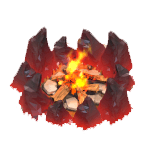 Unlike Clan Castle troops, troops stationed in the Army Camp do not defend your village during an attack. In fact, they do not appear on the attacker's map at all (Army Camps, full or not, will appear empty to an attacker).
Prior to the Halloween 2012 update, troops would die/disappear if their Army Camp was destroyed in a raid. In the update, troops were allowed to remain even if their camp was destroyed. Due to widespread player support towards keeping this feature, Supercell made it permanent. As a result, troops stationed in Army Camps are no longer at risk if their camp is destroyed by an attacker.
The maximum amount of housing space you can have for your Troops is 300 (4 Army Camps x 75 spaces). This increases to 345 if you include the extra 45 in a fully upgraded Clan Castle at Town Hall 13.
Heroes do not use Army Camps. They instead use their respective Altars.
You should not surround your Army Camps with Walls, as they do not need protection. Also, the Army Camps occupy a lot of space (4×4). More walls are needed to contain them when the extra walls can be used to surround defensive buildings that are already inside the wall, strengthening the defense.
It is always preferable to initially build all available Army Camps and then upgrade the lowest-level ones first. Every time you upgrade (except upgrading to level 2) the camp only gains 5 more housing space and it costs more elixir the more you upgrade. The next level is usually much more expensive than the one before it.
Army Camps have a unique hitbox, unlike other Buildings. That means that attacking Troops will have to walk right to the center where the campfire is located in order to attack the Army Camp.
Clan Castle troops do not go into the Army Camp when donated and thus do not take housing space in the Army Camp; they instead go to the Clan Castle.
If you look closely, you can see reactions from some Troops when you tap on the Army Camp. For example, Barbarians raise their swords, Archers pump their fists in the air and Minions sneeze.
As of the 16 September 2014 update, you can now dismiss any troops from the Army Camps, but the troop cost is not refunded.
| | | | | | | | | | | |
| --- | --- | --- | --- | --- | --- | --- | --- | --- | --- | --- |
| Town Hall Level | 1 | 2 | 3 | 4 | 5 | 6 | 7 | 8 | 9 | 10 |
| Number Available | 1 | 1 | 2 | 2 | 3 | 3 | 4 | 4 | 4 | 4 |
Level
Troop Capacity
Hitpoints
Build Cost
Build Time
Experience
Gained
Town Hall
Level Required
1
20
400
250
5 minutes
17
1
2
30
500
2,500
1 hour
60
2
3
35
600
10,000
3 hours
103
3
4
40
700
100,000
8 hours
169
4
5
45
800
250,000
1 day
293
5
6
50
1,000
750,000
3 days
509
6
7
55
1,200
2,250,000
5 days
657
9
8
60
1,400
6,750,000
10 days
929
10
Clash of Clans Buildings
1
2
Defensive Buildings
Cannon

•

Archer Tower

•

Mortar

•

Air Defense

•

Wizard Tower

•

Air Sweeper

•

Hidden Tesla

•

X-Bow

•

Inferno Tower

•

Eagle Artillery

•

Walls

•

Traps
Resource Buildings
Town Hall

•

Gold Mine

•

Elixir Collector

•

Dark Elixir Drill

•

Gold Storage

•

Elixir Storage

•

Dark Elixir Storage

•

Builder's Hut

•

Clan Castle (Treasury)
Army Buildings
Army Camp

•

Barracks

•

Dark Barracks

•

Laboratory

•

Spell Factory

•

Dark Spell Factory

•

Barbarian King Altar

•

Archer Queen Altar

•

Grand Warden Altar
Other Buildings
Decorations

•

Obstacles

•

Loot Cart