The Laboratory is a building where you can upgrade your Troops and your Spells. For a single research fee of Elixir or Dark Elixir, or one Hammer of Fighting or Hammer of Spells (which will instantly finish the upgrade), a chosen troop, spell or siege machine's stats (health, damage, etc.) and cost (not increased for siege machines) will increase by a small amount.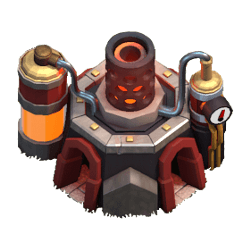 If you decide to upgrade your Laboratory while there is research going on, the laboratory upgrade will continue while the laboratory is upgrading, even though it will appear to have continued where it left off when you started the upgrade. The true progress can be seen by re-logging in back into the game, after the Laboratory upgrade is completed.

If the unit upgrade would finish while the Laboratory is upgrading, the upgrade will not be completed until the Laboratory upgrade itself is complete.

You cannot cancel the research while it is in progress, but you can immediately complete the upgrade. There are two methods to do so: using Gems, or with the relevant Magic Items (a Book of Fighting for troops, a Book of Spells for spells; a Book of Everything can be used for either).
The Laboratories emit a purple (level 1-6), blue (level 7), red (level 8) or yellow (level 9-11) glow from the entrances when upgrading a unit.
You do not need an available Builder to upgrade in the Laboratory.
Different levels of troops will receive graphical changes. However, when you are upgrading a troop, the laboratory interface doesn't show what it looks like after the upgrade.
When a Laboratory upgrade is completed, it is applied immediately to any relevant troops, spells, or siege machines that are present on the village, wherever they may be (whether it is already ready or is being trained at the time that the upgrade completes). You do not have to create new instances of the upgraded unit to benefit from the upgrade.

As a result, due to upgraded units having higher creation costs, you can queue the unit being upgraded in the relevant building just before the upgrade finishes, and then un-queue the unit when the upgrade finishes to gain some resources.

The upgrades inside the Laboratory take around the same amount of time as upgrading defenses and other buildings, but because players can only perform one laboratory upgrade at a time as opposed to multiple buildings at a time, these laboratory upgrades appear to take longer overall. Therefore, it is often in the player's best interest to keep the Laboratory running whenever possible. Certain Magic Items, such as the Book of Fighting or the Research Potion, can also help with laboratory research.
| Town Hall Level | 1 | 2 | 3 | 4 | 5 | 6 | 7 | 8 | 9 | 10 |
| --- | --- | --- | --- | --- | --- | --- | --- | --- | --- | --- |
| Number Available | 0 | 0 | 1 | 1 | 1 | 1 | 1 | 1 | 1 |  1 |
| Level | Hitpoints | Build Cost | Build Time | Experience Gained | Town Hall Level Required |
| --- | --- | --- | --- | --- | --- |
| 1 | 250 | 25,000 | 30 minutes | 42 | 3 |
| 2 | 270 | 50,000 | 5 hours | 134 | 4 |
| 3 | 280 | 90,000 | 12 hours | 207 | 5 |
| 4 | 290 | 270,000 | 1 day | 293 | 6 |
| 5 | 310 | 500,000 | 2 days | 415 | 7 |
| 6 | 330 | 1,000,000 | 4 days | 587 | 8 |
| 7 | 350 | 2,500,000 | 5 days | 657 | 9 |
| 8 | 350 | 4,000,000 | 6 days | 720 | 10 |
The following charts lists the level of the laboratory on the top and the unit/spell you can upgrade on the left. Each cell contains the level of the unit/spell you can train, how much it costs in elixir, and how long it takes. For example Laboratory level 4 allows you to train a level 3 giant for 250,000 elixir and it takes 2 days. The top chart contains Elixir troop upgrades while the bottom chart contains Dark Elixir upgrades. Certain troops are not able to be upgraded at certain laboratory levels and are represented by ' – 's. Elixir
Upgrade Chart
Laboratory Level
Level 1
Level 2
Level 3
Level 4
Level 5
Level 6
Level 7
Level 8
Barbarian
Level
2
–
3
–
4
5
6
–
Cost
50,000
–
150,000
–
500,000
1,500,000
4,500,000
–
Time
6 hours
–
1 day
–
3 days
5 days
10 days
–
Archer
Level
2
–
3
–
4
5
6
–
Cost
50,000
–
250,000
–
750,000
2,250,000
7,500,000
–
Time
12 hours
–
2 days
–
3 days
5 days
14 days
–
Goblin
Level
2
–
3
–
4
5
–
–
Cost
50,000
–
250,000
–
750,000
2,250,000
–
–
Time
12 hours
–
2 days
–
3 days
5 days
–
–
Giant
Level
–
2
–
3
4
5
6
–
Cost
–
100,000
–
250,000
750,000
2,250,000
6,000,000
–
Time
–
1 day
–
2 days
3 days
5 days
10 days
–
Wall Breaker
Level
–
2
–
3
4
5
–
6
Cost
–
100,000
–
250,000
750,000
2,250,000
–
6,750,000
Time
–
1 day
–
2 days
3 days
5 days
–
10 days
Balloon
Level
–
2
–
3
4
5
6
–
Cost
–
150,000
–
450,000
1,350,000
2,500,000
6,000,000
–
Time
–
1 day
–
2 days
3 days
5 days
10 days
–
Wizard
Level
–
–
2
3
4
5
–
6
Cost
–
–
150,000
450,000
1,350,000
2,500,000
–
7,500,000
Time
–
–
1 day
2 days
3 days
5 days
–
14 days
Healer
Level
–
–
–
–
2
3
4
 
Cost
–
–
–
–
750,000
1,500,000
3,000,000
 
Time
–
–
–
–
3 days
5 days
7 days
 
Dragon
Level
–
–
–
–
2
3
–
4
Cost
–
–
–
–
2,000,000
3,000,000
–
8,000,000
Time
–
–
–
–
7 days
10 days
–
12 days
P.E.K.K.A.
Level
–
–
–
–
–
2/3
–
4
Cost
–
–
–
–
–
3,000,000 / 6,000,000
–
8,000,000
Time
–
–
–
–
–
10 days / 12 days
–
14 days
Lightning Spell
Level
2
3
4
–
–
5
–
6
Cost
200,000
500,000
1,000,000
–
–
2,000,000
–
8,000,000
Time
1 day
2 days
3 days
–
–
4 days
–
14 days
Healing Spell
Level
–
2
–
3
4
5
6
–
Cost
–
300,000
–
600,000
1,200,000
2,400,000
4,800,000
–
Time
–
1 day
–
2 days
3 days
5 days
7 days
–
Rage Spell
Level
–
–
2
3
4
5
–
–
Cost
–
–
450,000
900,000
1,800,000
3,000,000
–
–
Time
–
–
2 days
3 days
5 days
7 days
–
–
Jump Spell
Level
–
–
–
–
–
–
2
–
Cost
–
–
–
–
–
–
4,000,000
–
Time
–
–
–
–
–
–
5 days
–
Freeze Spell
Level
–
–
–
–
–
–
–
2 / 3 / 4
Cost
–
–
–
–
–
–
–
4,000,000 / 6,000,000 / 8,000,000
Time
–
–
–
–
–
–
–
5 / 10 / 14 days
Dark Elixir
Upgrade Chart
Laboratory Level
Level 5
Level 6
Level 7
Level 8
Minion
Level
2
3
4
5
–
–
Cost
10,000
20,000
30,000
40,000
–
–
Time
5 Days
6 Days
7 Days
10 Days
–
–
Hog Rider
Level
2
3
4
5
–
–
Cost
20,000
30,000
40,000
50,000
–
–
Time
8 Days
10 Days
12 Days
14 Days
–
–
Valkyrie
Level
–
–
2
3
4
–
Cost
–
–
50,000
60,000
70,000
–
Time
–
–
10 Days
12 Days
14 Days
–
Golem
Level
–
–
2
3
4
5
Cost
–
–
60,000
70,000
80,000
90,000
Time
–
–
10 Days
12 Days
14 Days
14 Days
Witch
Level
–
–
–
2
–
–
Cost
–
–
–
75,000
–
–
Time
–
–
–
10 Days
–
–
Clash of Clans Buildings
1
2
Defensive Buildings
Cannon

•

Archer Tower

•

Mortar

•

Air Defense

•

Wizard Tower

•

Air Sweeper

•

Hidden Tesla

•

X-Bow

•

Inferno Tower

•

Eagle Artillery

•

Walls

•

Traps
Resource Buildings
Town Hall

•

Gold Mine

•

Elixir Collector

•

Dark Elixir Drill

•

Gold Storage

•

Elixir Storage

•

Dark Elixir Storage

•

Builder's Hut

•

Clan Castle (Treasury)
Army Buildings
Army Camp

•

Barracks

•

Dark Barracks

•

Laboratory

•

Spell Factory

•

Dark Spell Factory

•

Barbarian King Altar

•

Archer Queen Altar

•

Grand Warden Altar
Other Buildings
Decorations

•

Obstacles

•

Loot Cart