Clash of Clans Cannon are the first defensive base building you can build. At lower levels they are cheap and quick to upgrade.
Cannons can only target one enemy at a time and deal moderate damage compared to other defensive base buildings.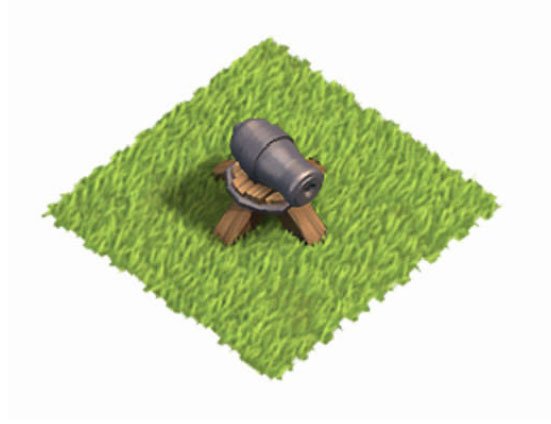 Gearing Up Cannons
At level 7, if you have a Master Builder and one Double Cannon in the Builder Base at level 4 or higher. The Master Builder can gear up a Cannon to make it resemble a Double Cannon.
The upgrade doubles the damage a cannon can inflict but reduces its range from 9 to 7 tiles.
You can only gear up one Cannon.
Defensive Strategy
Cannons have a high rate of fire which makes them an ideal deterrent for Wall Breakers (which have very low hitpoints)
Since Cannons can not target air units. They should have overlapping Air Defenses to keep them safe.
Cannons struggle against swarms of troops. Since they can only target one at a time and inflict no splash damage.
Offensive Strategy
When attacking Cannons check if they have air defenses nearby. If they do not. Then you can easily wipe them out with Balloons, Dragons, or Minions without taking any damage.
Cannons are only able to damage one unit at a time. This makes it very easy to overwhelm them with large groups of Archers or Barbarians.
Cannon Important Info
| Town Hall Level | 1 | 2 | 3 | 4 | 5 | 6 | 7 | 8 | 9 | 10 | 11 | 12 | 13 |
| --- | --- | --- | --- | --- | --- | --- | --- | --- | --- | --- | --- | --- | --- |
| Number Available | 2 | 2 | 2 | 2 | 3 | 3 | 5 | 5 | 5 | 6 | 7 | 7 | 7 |
| Range | Attack Speed | Damage Type | Unit Type Targeted |
| --- | --- | --- | --- |
| 9 | 0.8s | Single Target | Ground |
Gear Up Stats
| Range | Attack Speed | Damage Type | Unit Type Targeted |
| --- | --- | --- | --- |
| 7 | four-shot volley every 1.6 seconds | Single Target | Ground |
| Gear Up Cost | Gear Up Time | Home Village Cannon Level Required | Double Cannon Level Required |
| --- | --- | --- | --- |
| 1,500,000 Gold | 2 Days | 7 | 4 |
Clash of Clans Cannon Upgrade Chart
| Level | DP/Sec | DP/Sho | HP | Gold Cost | Build Time | Experience Gained | TH Required |
| --- | --- | --- | --- | --- | --- | --- | --- |
| 1 | 9 | 7.2 | 420 | 250 | 10s | 3 | 1 |
| 2 | 11 | 8.8 | 470 | 1,000 | 15m | 30 | 1 |
| 3 | 15 | 12 | 520 | 4,000 | 45m | 51 | 2 |
| 4 | 19 | 15.2 | 570 | 16,000 | 1h | 60 | 3 |
| 5 | 25 | 20 | 620 | 50,000 | 4h | 120 | 4 |
| 6 | 31 | 24.8 | 670 | 100,000 | 8h | 169 | 5 |
| 7 | 40 | 32 | 730 | 200,000 | 8h | 169 | 6 |
| 8 | 48 | 38.4 | 800 | 400,000 | 12h | 207 | 7 |
| 9 | 56 | 44.8 | 880 | 800,000 | 12h | 207 | 8 |
| 10 | 64 | 51.2 | 960 | 1,000,000 | 1d | 293 | 8 |
| 11 | 74 | 59.2 | 1,060 | 2,000,000 | 1d 12h | 360 | 9 |
| 12 | 87 | 69.6 | 1,160 | 3,000,000 | 2d | 415 | 10 |
| 13 | 100 | 80 | 1,260 | 4,000,000 | 3d | 509 | 10 |
| 14 | 110 | 88 | 1,380 | 5,500,000 | 5d | 657 | 11 |
| 15 | 118 | 94.4 | 1,500 | 7,000,000 | 6d | 720 | 11 |
| 16 | 124 | 100 | 1,620 | 10,000,000 | 9d | 881 | 12 |
| 17 | 130 | 105.6 | 1,740 | 12,000,000 | 12d | 1,018 | 12 |
| 18 | 139 | 111.2 | 1,870 | 15,000,000 | 16d | 1,138 | 13 |
*DP/Sec: Damage per Second *DP/Sho Damage Per Shot *HP hitpoints *TH Required Town Hall level required