Grand Warden Altar Summary
The Grand Warden Altar is basically a Barracks/Army Camp/Laboratory for the Grand Warden. When he isn't engaging in a battle, the Grand Warden can be seen pacing around his Altar or sleeping on top of it to regenerate health.
If you wish to see the Grand Warden's targeting range, tap either on him or on his Altar.
You need a free Builder and at least 6,000,000 Elixir to build the Altar. Doing so immediately summons the Grand Warden and enables him to be used at level 1.
When under attack, the Grand Warden will quickly return to his altar and turn to a statue that functions as a defense but with his life aura still in effect to friendly Heroes and Clan Castle troops.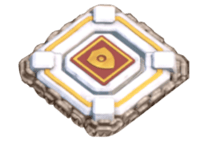 ""This veteran battle-scholar seeks out groups of friendly troops to fight behind and boost with his Life Aura, and assumes the form of a tower on defence. Attacking, he can walk over walls or fly high, and can make nearby troops immune to damage once his Eternal Tome ability is unlocked!"
| Cost | Build Time | Hitpoints | Unlocked Unit | Size | Town Hall Level Required |
| --- | --- | --- | --- | --- | --- |
| 6,000,000 Elixer | None | 250 | Grand Warden | 3×3 | 11 |