Summary
The Giant is the third troop unlocked in the Barracks.
The Giant's first target is defenses, making them an ideal troop to deploy to get rid of defenses fast. However, due to their low attack damage they are better used in large groups.
Giants prioritize defensive structures above all other targets, and will bypass all other types of enemy buildings and troops while any defenses remain on the battlefield. This is true even if they are under attack by enemy Clan Castle troops, heroes or Skeleton Trap skeletons. Note that like all troops that prioritize defenses, Giants do not consider the Clan Castle to be a defense regardless of whether or not it contains enemy troops, but do consider the defending Grand Warden and the level 12 or 13 Town Hall (if its Giga Tesla or Giga Inferno has been triggered) to be defensive buildings.
Once all defenses are destroyed, Giants become like any other troop with no preferred target; they will attack the nearest building to them regardless of type, and will turn and attack enemy units if they become aware of any nearby.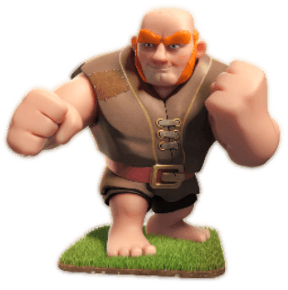 Offensive Strategy
It is a good strategy for raiding to fill your Army Camp with Giants and Archers; together they can easily wipe out a base. Use the Giants to distract all the Defensive Towers while the Archers take everything down.
At the beginning of a Raid, send in several Giants closest to the Mortar(s)/Wizard Tower(s). As soon as the Mortar hits the Giants, send in the necessary number of Wall Breakers to help the Giants break through the walls. Once the Mortar(s) and Wizard Tower(s) are destroyed, you can send in swarms of lower hit point Troops such as Goblins and Archers.
Giants have a lot of health but are slow and have low attack power, so use them in groups and maybe send in a Healer to maximize their effectiveness.
Giants are weak against many defenses grouped together.
You can use Giants as a cheap meat shield while deploying other, higher damaging troops to destroy buildings.
Another strategy is to send many Giants with a Healer. Be wary of Air Defenses and other anti-air towers, however, as Healers are very weak and have many vulnerabilities.
In general, Giants make better distracting troops than Barbarians due to their much higher health. Because of this they are less vulnerable to Mortar fire and other splash damage, and are much harder to kill.
Defensive Strategy
Giants can be especially susceptible to Spring Traps due to the predictable nature of their AI. Use this to your advantage and place strategic gaps in your Walls with defensive structures behind them, and fill the gaps with one or more Spring Traps.
Giants are reasonably good defensive Clan Castle Troops, as their high health means that multiple offensive units will have to be dispatched to deal with them (a Lightning Spell will not be sufficient). They will also take a relatively long time to kill, delaying the enemy attack. However, the problem with using giants as clan castle troops is that when they come out to defend, they take up five spaces. This means that if the enemy has enough troops to one hit a giant, it will be more efficient to use five barbarians, as the enemy troops will promptly have to reload. As such, it will take five times as long.
| Preferred Target | Attack Type | Housing Space | Training Time | Movement Speed | Attack Speed | Barracks Level Required | Range |
| --- | --- | --- | --- | --- | --- | --- | --- |
| Defenses | Melee (Ground Only) | 5 | 2m | 12 | 2s | 4 | 1 tile |
| Level | Damage per Second | Damage per Attack | Hitpoints | Training Cost  | Research Cost  | Laboratory Level Required | Research Time |
| --- | --- | --- | --- | --- | --- | --- | --- |
| 1 | 11 | 22 | 300 | 500 | N/A | N/A | N/A |
| 2 | 14 | 28 | 360 | 1,000 | 100,000 | 2 | 1 day |
| 3 | 19 | 38 | 430 | 1,500 | 250,000 | 4 | 2 days |
| 4 | 24 | 48 | 520 | 2,000 | 750,000 | 5 | 3 days |
| 5 | 31 | 62 | 670 | 2,500 | 2,250,000 | 6 | 5 days |
| 6 | 37 | 74 | 800 | 3,000 | 6,000,000 | 7 | 10 days |
Clash of Clans Troops
Tier
Troops

Tier 1

Barbarian

 • 

Archer

 • 

Goblin

Tier 2

Giant

 • 

Wall Breaker

 • 

Balloon

 • 

Wizard

Tier 3

Healer

 • 

Dragon

 • 

P.E.K.K.A

Dark Elixir Troops

Minion

 • 

Hog Rider

 • 

Valkyrie

 • 

Golem

 • 

Golemite

 • 

Witch

 • 

Skeleton

Heroes

Barbarian King

 • 

Archer Queen

Spells

Lightning Spell

 • 

Healing Spell

 • 

Rage Spell

 • 

Jump Spell 

• 

Freeze Spell