Clash of Clans P.E.K.K.A Summary
P.E.K.K.A is the 10th troop to be unlocked in the standard Barracks. She is an Elixir Troop with very high damage per second and hit-points, but is also quite expensive and takes up a large amount of housing space, with slow movement and attack speed.
P.E.K.K.As have no preferred target when attacking; they will simply attack the closest building. However, once they become aware of enemy Clan Castle troops, Heroes, or Skeleton Trap skeletons (either by being attacked themselves or by being near another friendly troop under attack), they will leave their previously targeted building and instead engage the enemy troops. Once all of the nearby enemy troops are defeated, the P.E.K.K.As will proceed to attack the nearest structure.
She has purple crystal spikes growing out of the side of her head, and carries a sword.
The P.E.K.K.A receives double damage from Hidden Teslas due to the conductivity of her armor.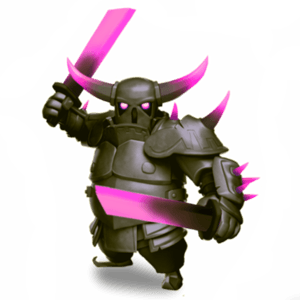 Offensive Strategy
Because this unit has the highest attack of all normal units in the game along with very high health, it is advisable to deploy them in pairs on each corner of the opponent's village or near a bunch of enemy defensive buildings. Most buildings won't survive two attacks of this very powerful unit (600-825 damage per hit depending on level), meaning two P.E.K.K.As should destroy most buildings in a single hit from both units. By deploying in pairs, Mortars won't be as effective either, as they can only damage one pair at a time as opposed to an entire group of P.E.K.K.As deployed together. Nevertheless, if the opponent's village has maximum level Walls, it may be best to deploy larger groups of P.E.K.K.As. This way, they will be able to break through the walls with one hit. Beware of Hidden Teslas though, as Hidden Teslas do twice as much damage to P.E.K.K.As as they do to other units.
Defensive Strategy
Hidden Teslas deal enough damage to kill a P.E.K.K.A quickly. However, several P.E.K.K.As together are still quite dangerous, so make sure you have a secondary defense. Have a plan to remove some of them the old-fashioned way, and then have a Hidden Tesla kill the rest.
P.E.K.K.As are not affected by Spring Traps.
Clash of Clans P.E.K.K.A Stats
| Preferred Target | Attack Type | Housing Space | Training Time | Movement Speed | Attack Speed | Barracks Level Required | Range |
| --- | --- | --- | --- | --- | --- | --- | --- |
| None | Ground Only | 25 | 45m | 16 | 2.5s | 10 | 0.8 tiles |
| Level | Damage per Second | Damage per Attack | Hitpoints | Training Cost | Research Cost | Laboratory Level Required | Research Time |
| --- | --- | --- | --- | --- | --- | --- | --- |
| 1 | 240 | 600 | 2,800 | 30,000 | N/A | N/A | N/A |
| 2 | 270 | 675 | 3,100 | 35,000 | 3,000,000 | 6 | 10 days |
| 3 | 300 | 750 | 3,400 | 42,000 | 6,000,000 | 6 | 12 days |
| 4 | 330 | 825 | 3,700 | 50,000 | 8,000,000 | 8 | 14 days |
Clash of Clans Troops
Tier
Troops

Tier 1

Barbarian

 • 

Archer

 • 

Goblin

Tier 2

Giant

 • 

Wall Breaker

 • 

Balloon

 • 

Wizard

Tier 3

Healer

 • 

Dragon

 • 

P.E.K.K.A

Dark Elixir Troops

Minion

 • 

Hog Rider

 • 

Valkyrie

 • 

Golem

 • 

Golemite

 • 

Witch

 • 

Skeleton

Heroes

Barbarian King

 • 

Archer Queen

Spells

Lightning Spell

 • 

Healing Spell

 • 

Rage Spell

 • 

Jump Spell 

• 

Freeze Spell