Summary
The Lightning Spell is the first spell unlocked in the Spell Factory and is automatically unlocked once the Spell Factory has finished construction.
When this spell is used, a single lightning bolt drops from the sky, damaging all Buildings and enemy Troops in a small radius, with the exception of resource storages and the Town Hall. If a defense (or defensive troop) is struck by the lightning, it is stunned briefly and retargets.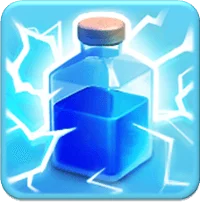 Offensive Strategy
Some people use Lightning Spells only on the Dark Elixir Storage to steal the Dark Elixir from them.
It is very useful to take out an enemy's defenses such as Cannons or Archer Towers.
It is also very useful to take out enemy Clan Castle Troops.
It can be used to destroy Mortars, or at least damage them significantly due to their relatively low hitpoints.
It can be very useful if you need to just destroy a building to get a star.
A good Trophy-hunting strategy is to use Lightning Spells to take out an Air Defense then deploy Dragons, although it takes 3 fully upgraded Lightning Spells to take out a lvl 2 Air Defense. Jorge Yao stated in his interview that he used that tactic to help him reach number one on the top players' list.
Lightning Spells are usually used to take out or damage Defenses with relatively low hit-points.
5 level 6 lightning spells can take out a level 4 town hall (and lower) however this isn't a recommended method.
| Radius | Random Radius | Number of Strikes | Time Between Strikes | Time to Create | Spell Factory Level Required |
| --- | --- | --- | --- | --- | --- |
| 2 tiles | 3.5 tiles | 6 | 0.4s | 30 minutes | 1 |
| Level | Total Damage | Damage per Strike | Cost  | Upgrade Cost  | Upgrade Time | Laboratory Level Required |
| --- | --- | --- | --- | --- | --- | --- |
| 1 | 300 | 50 | 15,000 | N/A | N/A | N/A |
| 2 | 330 | 55 | 16,500 | 200,000 | 1 day | 1 |
| 3 | 360 | 60 | 18,000 | 500,000 | 2 days | 2 |
| 4 | 390 | 65 | 20,000 | 1,000,000 | 3 days | 3 |
| 5 | 420 | 70 | 22,000 | 2,000,000 | 4 days | 6 |
| 6 | 450 | 75 | 24,000 | 8,000,000 | 14 days | 8 |
Clash of Clans Troops
Tier
Troops

Tier 1

Barbarian

 • 

Archer

 • 

Goblin

Tier 2

Giant

 • 

Wall Breaker

 • 

Balloon

 • 

Wizard

Tier 3

Healer

 • 

Dragon

 • 

P.E.K.K.A

Dark Elixir Troops

Minion

 • 

Hog Rider

 • 

Valkyrie

 • 

Golem

 • 

Golemite

 • 

Witch

 • 

Skeleton

Heroes

Barbarian King

 • 

Archer Queen

Spells

Lightning Spell

 • 

Healing Spell

 • 

Rage Spell

 • 

Jump Spell 

• 

Freeze Spell